Creating Comfortable Lifestyles For Over 18 Years
Learn how Pompanette Canvas and Upholstery can improve the spaces in which you live and work.
Expert Sewing Skills
Pompanette Canvas and Upholstery is immersed in the rich ancestry and design stemming from St. Augustine's roots and long heritage of cultures bringing new ideas from lands across the sea.
High Quality Materials
We are a group of professionals who are dedicated to our customers and who have worked together for a long time. Each team member has a minimum of 18 years of experience in our craft.
Reliable Service
It is the sea who brought our first customers and whom we still serve today. Marine vessels of all shapes and sizes have trusted us to make their world on the water unique and comfortable.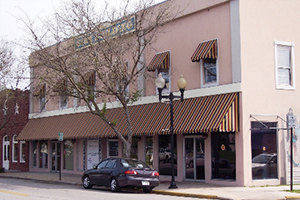 Commercial – Furniture Coverings, Curtains, & Awnings
Whether you need to refresh your current furniture or rethink your use of space, we can help. We have many options available for recovering existing furniture or we can design furniture to exactly fit your space and function. We can recover booths & chairs, build new custom seating, create divider curtains between rooms and a lot more. Create eye catching awnings or call us to consult on any problem area. Outside seating is always popular, but is a place that needs to be comfortable in both the summer and winter months. We can help you create a versatile enclosure to keep your customers comfortable and enhance their enjoyment of your outdoor space. Our commitment to customer service and our experienced crew make us a leader in this business. Call today for a free consultation and estimate.
---
---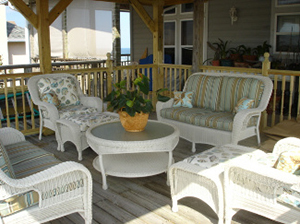 Residential – Recovered or Custom-made
We have an extensive selection of fabrics to choose from. You are also welcome to bring your favorite swatches and encourage you to test different kinds of foam to fund your optimal comfort combination. Once we decide on the fabric and foam, we will go to the market for you and find the best values for your project. In addition to custom projects and reupholstering projects, we also make new mattresses, bedspreads, pillows, and drapes. Awnings and porch covers have also become a popular project over the years and can transform the look of your outdoor space. Our talented team offers both free in-home estimates and/or meetings in our workshop. A customer once commented that our shop resembles that of Santa Claus' workshop. We encourage you to come see for yourself!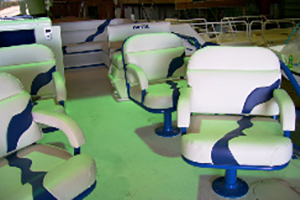 Marine Interior – Interior Cushions, Couches, Chairs, & Bedding
Let us create new cushions for interior comfort and exterior relaxation. We have several options to choose from such as soft, designer cushions to decorate the lounge OR water resistant, durable cushions that can provide back support and survive the harsh sun and salt. With a variety of foam and material, we can help you choose the right soft or sturdiness for your space. Starting fresh or simply recovering your cushions in the cabin, cockpit, or settee will give your space a whole new look and feel.
---
---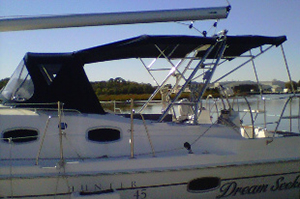 Marine Exterior – Exterior Canvas Covers & Cushions
Our canvas projects range from custom biminis above a center console, to life in the shade, lounging on large yachts. We offer both design and fabric recommendations… OR we just listen to you, the customer, and make EXACTLY what you ask for. Our long experience has allowed us to work with just about every style and opinion out there. We look forward to collaborating on your next project. We can show you the difference between various material options such as the pros & cons of Sunbrells vs Stamoid OR 40 gauge vs acrylic. It is our pleasure to help our customers make the best choice. That's why we thrive on repeat business. We are committed to the best quality and service. Our skilled crafts men and women can replace rotten wood with Starboard that will never deteriorate. Whether it is a helm station observation seat in pleated leather on a 220 ft motor yacht… or a cockpit cushion on a 14 ft day sailor; we take pride of workmanship to give you the products and service that keep you coming back.
Pompanette Canvas and Upholstery is proud to have worked with local businesses, including: